Sometimes it can be helpful to have a single multiple choice question, but with some sub-answers displayed only if the parent item is chosen. Here's an example: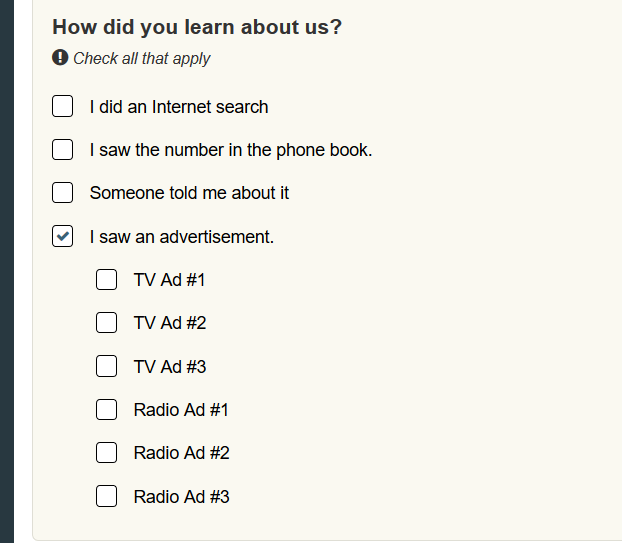 Our survey provisioning team knows some pretty cool tricks to customize survey behaviour at run-time. Javascript is our tool of choice for tweaking behaviour, and here's an example that might be useful if you have a long multiple choice list, and wish there was a "Select All" option.
While we don't currently have a configuration option to enable this, it can be accomplished with a little bit of Javascript magic. Here's what you need to do...
If you use Sona-Systems for your participant panels, then we've got your covered!
You can easily leverage the participant panel services of Sona Systems to secure participants for your survey. Passing the Sona Systems participant code to our platform is simple to configure, ensuring that you'll maximize the effectiveness of your survey, while meeting privacy requirements to collect and retain participant data securely in Canada.
There are times where it is really nice to have a short URL that people can remember for your survey. We're super-excited to announce a new, free service that lets you transform your survey URL to a simple link http://oursurvey.ca/wmHZc0P
There's other benefits if you sign up for a free account, so be sure to read on....
A few bugs will be squashed in June! The following fixes will be released to survey instances over the next 30 days:
Under some situations, dates weren't validating correct for the Date question type.
Text displayed to left and right of 5 point scale would be bolded on left but not on right. Bolding removed.
CAPTCHA text changed from "prove you are human" to "complete the following small task"
Error could be triggered under some scenarios when auditlog plugin enabled
Various language translation updates
In mid-May, to celebrate Canada's 150th birthday, we updated our admin login screen to feature an amazing collection of images highlighting Canada.