There are times where it is really nice to have a short URL that people can remember for your survey. We're super-excited to announce a new, free service that lets you transform your survey URL to a simple link http://oursurvey.ca/wmHZc0P
There's other benefits if you sign up for a free account, so be sure to read on....
Getting Started
If you have a public survey (that is, you aren't using Tokens) and want to create a URL that is either easy to remember or easy to type into a web browser, you're going to want to start using OurSurvey.ca. You can get started right from your survey dashboard. You'll see a link on the dashboard like this: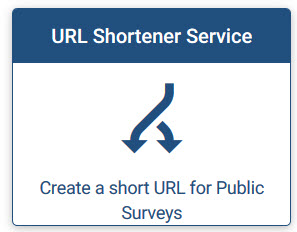 Click on the link and you'll be redirected to the service in a new tab.


Return to your survey summary page, and grab the URL for your survey (if you have a multilingual survey, be sure to create short URLs for both links). The survey URLs are here in your survey summary page:


Now, go back to OurSurvey.ca and paste the survey URL into the big box, click the I'm not a Robot box if you see it, and then click the arrow to create your custom short URL:


That's it -- you now have a short URL you can share with participants.
But -- there's way more!
I strongly recommend you create an account with OurSurvey.ca. If you create an account, you will get access to QR codes, link management, and traffic metrics.. and for now we are offering the service as a free add-on!
Yes, you'll have these cool QR codes you can include on any item -- and folks can just scan the QR code with their smartphone and load your survey!
Plus, you'll get access to useful click-through statistics on the survey links.
And you can manage multiple URLs and create custom short URL tags (assuming no one else has created it yet -- like http://oursurvey.ca/Canada150)
I'm not sure how long we'll offer this service for free, so I encourage you to try it out today.
Getting a QR Code
If you're looking for the QR codes after you've created an account, click on the left menu option Manage Links, and then click on the Stats link beheath the URL in question:

And you'll see the QR code :