Working with Individual Responses
You can access individual responses via the Response screen. Features include:
View response details
Generate Printable PDF copy of a single response
Edit a response
Download all attachments associated with an individual response
Delete a response
Delete attachments
To access Responses, start at the Survey summary page, and select Responses:

Next, select the Display Responses option:

Exporting Response Date
If you want to export responses to CSV or Excel, select Export->Export results to an application.
You can also export your data to SPSS (syntax and date file) from Export->Export results to a SPSS file



Working with Individual Responses
If you click on Display responses from the menu, you'll see a paginated list of your responses. At the lower right side of the page, you can select how many responses to show per page.
Responses can either be "Completed" or "Incomplete". You can Show all, or apply a filter: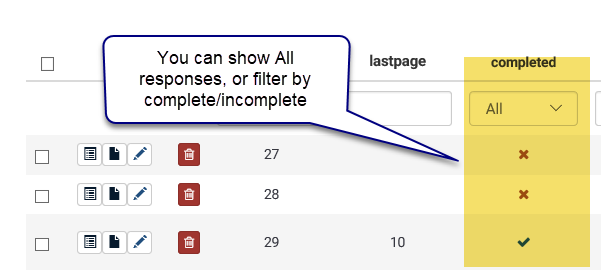 Downloading Attachments, Editing Responses, and Bulk Actions
To the left of each responses, you'll find a series of icons. Refer to the diagram below to learn about their features: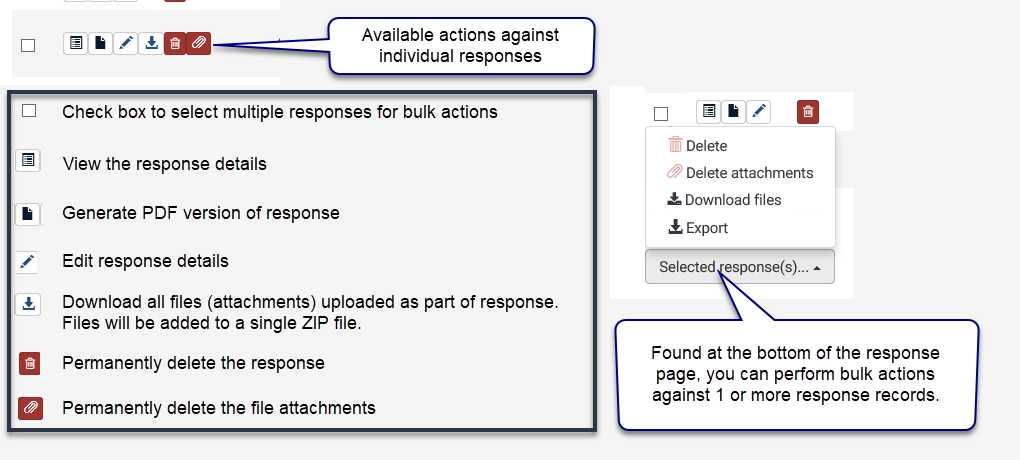 Managing Saved but not Submitted Responses
If you have enabled Save and return later on your survey, you may have participants who have Saved, but not submitted their responses yet. You can access these responses via this menu option:

We greatly appreciate your feedback.