Blog
Friday, 26 February 2010 15:29
I'll be the first to admin that LimeSurvey's interface is clean and simple. We are often lured in by cool interfaces with all sorts of bells and whistles, but frankly, the most important feature of an online survey should be Accessibility. So, is LimeSurvey Accessible?
LimeSurvey can meeting most of the criteria in the 508 Compliance Website, in particular the checklist page (www.csun.edu/~comp508/websitecheck.html).
To a large extent, it depends what Template you select. If you use a CSS based template like Limespired and Mint Idea you are probably going to be fine. So, remember, keep things simple, use one of these templates and you'll be able to maximize the number of respondants!
Tuesday, 02 February 2010 15:22
A recent question was posted in the LimeSurvey forums, and I think it is worth bringing it to your attention.
The question was:
"Do you know which universities are currently using LimeSurvey? We use LimeSurvey at our university, and a few schools are looking into licensing options with another product. I would like to provide the schools with feedback on LimeSurvey and why they should be using it and refrain from pay high fees to a 3rd partylicensed product."
Well, turns out there are quite a few academic institutions using LimeSurvey -- often to save on licensing fees from commercial products.
You can read the full posting here : http://www.limesurvey.org/en/support/forums/5-can-i-do-this-with-limesurvey/37947-which-universities-are-using-limesurvey
Friday, 06 November 2009 14:08
Of course at Hosted in Canada Surveys, we know that a lot of folks will need to create a bilingual survey. LimeSurvey has fantastic multilingual support -- that's right, English, French, and a host of other languages.
When you create your survey, you'll select a base language. From there, you then can proceed to add any number of other languages to your survey:

The "additional languages" will appear as tabs for all objects that you'd need to provide alternative languages for: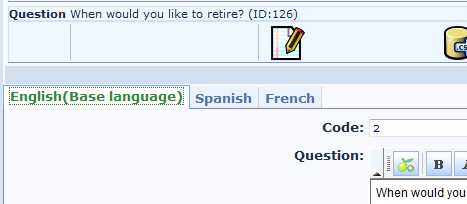 Thursday, 29 October 2009 13:59
While surveys are typically all about agreggates, sometimes there is a need to export individual responses.
With LimeSurvey, you can of course export responses in SPSS format, but how can you export a single response?
Yes, there are two options for you:
When exporting results to .csv/Excel/Word you can set a range. Just check which dataset you want to export and limit the range like "from 10 to 10".
When you are viewing an individual response, you can click Export response icon:

Thursday, 22 October 2009 13:54
Hmm, the title of entry seems a bit duplicated -- but hey, this posting is all about how to replicate an existing survey, so perhaps it is appropriate.
So, you have an existing survey, and you want to create a new survey that is very similar to your existing one, but of course, you don't want to retype 100 questions!
No problems! You can export an existing survey structure (note structure -- not data) to CSV format. Then, create a new survey and just import your CSV file again. Voila, a duplicated survey. Next, you can proceed to edit the new survey to customize it.
<< Start < Prev 1 2 3 4

5

6 Next > End >>


Page 5 of 6